HIGHLY PATHOGENIC AVIAN INFLUENZA
THERE'S MUCH TO CONSIDER THIS SEASON WITH HPAI SPREADING IN OUR AREA. PLEASE SEE THE BELOW INFORMATION REGARDING HPAI AND OUR REHABILITATION EFFORTS.
CURRENTLY WILDLIFE REHAB CENTER LTD WILL CONTINUE TO ACCEPT BIRDS FOR REHABILITATION (INCLUDING WATERFOWL) FOR THE 2022 SEASON. IF AT ANY POINT THE SAFETY OF OUR TEAM OR ANIMALS ARE COMPROMISED OR THE LAW IS AMENDED, WE WILL HAVE TO ALTER OUR PLANS.
**TO assist with our quarantine protocols, NO BIRDS WILL BE ADMITTED WITHOUT AN APPOINTMENT**
What is HPAI?
Basic Information on what we are facing with HPAI (Highly Pathogenic Avian Influenza) :
The species of wild birds that are most likely to be infected with HPAI are:
1) waterfowl (ducks, swans or geese)
2) Seabirds (gulls, etc.)
3) Those species that may scavenge or prey upon waterfowl (hawks, owls, and vultures)
The DNR announced Thursday that highly pathogenic avian influenza had been detected in free-ranging Canada geese and tundra swans from St. Clair County, in snowy owls from Macomb County and in a mute swan from Monroe County. Please note: Wild birds and particularly waterfowl often show no signs of illness until death.
Clinical signs in wild birds include neurological deficits (seizures, tremors, ataxia, mentation changes), respiratory disease (nasal discharge, coughing), and gastrointestinal disease (diarrhea), but often are less specific (lethargy, decreased appetite). Sudden death, especially of multiple birds, can also occur. As mentioned above, in species like waterfowl (geese, ducks) and shorebirds (including gulls), there may be no clinical signs. Raptors with HPAI are often clinical and progress rapidly within a few days. They have found HPAI in some songbirds, but they are still considered a low-risk species.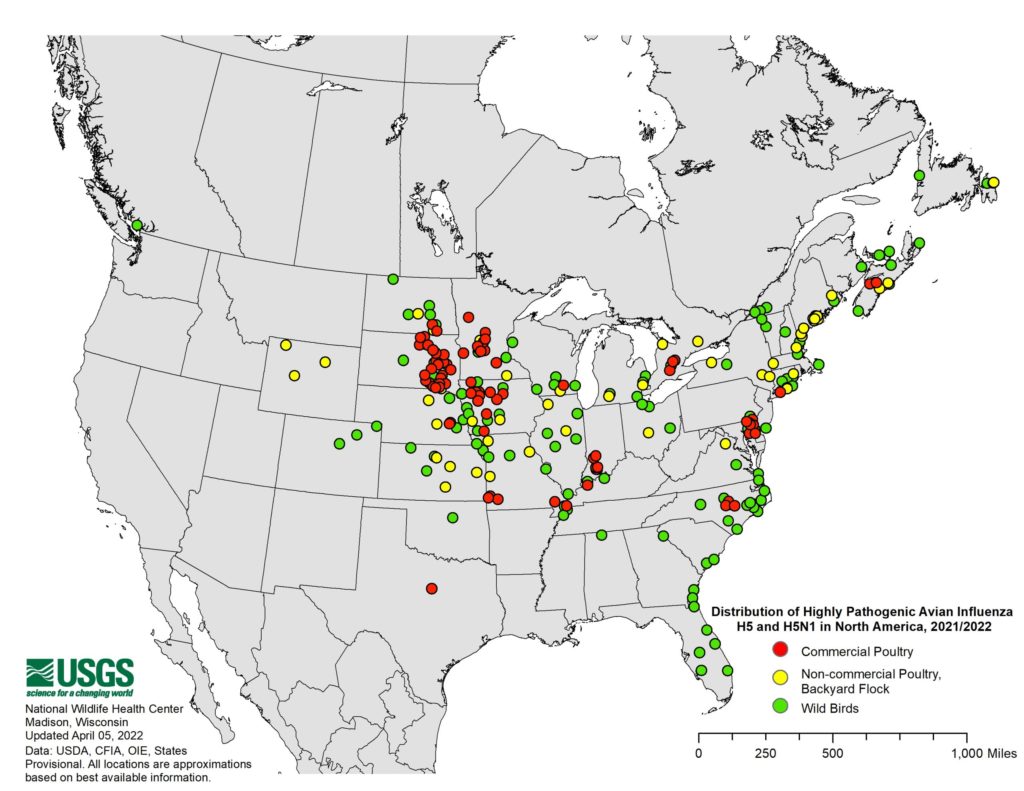 How is avian influenza spread?
Avian influenza is shed in large concentrations in feces, but is also spread via saliva and other bodily secretions. Direct bird-to-bird spread has the highest risk of disease spread, but it can also be spread via fomites. Fomites are items that are at high risk for spreading infectious disease particles.
Almost anything that has contact with AI can serve as a fomite, making humans one of the highest risks via hands, clothing, shoes, equipment, etc.
HPAI can live weeks to months at cooler temperatures (even longer in water and below freezing), but rarely more than a few days at room temperature or warmer. It is generally easy to remove with many disinfection agents, but requires appropriate cleaning to remove any organic/inorganic material beforehand.