LEAVING A LEGACY IN WEST MICHIGAN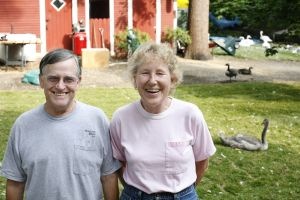 Thank you is not enough
Wildlife Rehab Center (WRC) has served the Grand Rapids community for 30+ years as a reliable resource for injured and orphaned wildlife. Since our founding, we have grown to rescue over 4000 animals a year, all on a 1-acre urban property at our founders Peg and Roger Markle's residence. In 2022, Roger suffered a serious accident while working in the barn. Thankfully he has recovered but it became clear that it was time for the Markles' to officially retire and the organization Wildlife Rehab Center will "retire" with them.
it's bittersweet to say goodbye to something so very near and dear to us and the community. It takes someone very special to dedicate their lives and their home to hundreds (and eventually thousands) of wild animals. The legacy of WRC and our founders Peg & Roger Markle reminds us that every life is deserving of a second chance. Peg & Roger, we thank you for your years of service.
To all our volunteers, donors and supporters, what we have been able to accomplish, we owe to you. Peg and Roger gave us our mission and our heart, you gave us the means and motivation! We thank you; our animals thank you and the community thanks you.
**Animals will NO LONGER be admitted at 1504 Union Ave NE Grand Rapids, MI
WILDLIFE HELP IS still A CLICK AWAY!
Our dedicated team of volunteers and rehabilitators have pledged to see our wonderful rescue work continue via a new organization! Please follow our "daughter" center the West Michigan Wildlife Center!
Call: 616-361-6109
or